Our Top-Selling Upright Belt Sander is New and Improved!

CRL's success and strong reputation is due in large part to product innovation. That's why we're proud to introduce the New and Improved CRL Upright Belt Sander #2300RP. Building on the industry-proven, rugged construction of our top-selling 2200RP Belt Sander, the New #2300RP has been upgraded to produce a quieter, more durable machine. The New #2300RP retains the popular features
that made it a fabricator favorite—such as a powerful
1 HP motor—while offering several enhancements.



Standard Features:

Uses Industry Standard
4" x 106" Abrasive Belts
Rugged Construction and Powerful 1 HP Direct Drive Motor
Thick-Walled, Rust-Proof Polyethylene Tank Extends Machine Life
Durable Urethane Roller Platen and Front Rest Guide Bar
Fast Abrasive Belt Changing Mechanism
Available from All U.S.
Service Centers


Upgraded Tensioning System:
We've replaced the gas spring with an expansion spring, hinge, and ratcheting lever, creating more consistent positive belt pressure, easier belt alignment, and a quieter running sander.
Streamlined Design:
By reorienting the power box to the rear of the motor, the water spray solenoid has been relocated from the power switch box to the motor power box.
Stronger Backbone:
For increased stability, we've strengthened the sander's spine by upgrading it to a much stronger one-piece
3" x 6" tubular steel channel. The tubular channel ensures a perfectly straight mast.

These enhancements, together with unsurpassed technical support, short lead times, and reliable customer service, make the new and improved CRL Upright Belt Sander #2300RP the best choice for your glass shop.




New BNDSW1 Band Saw Offers the Best in Metal Cutting Versatility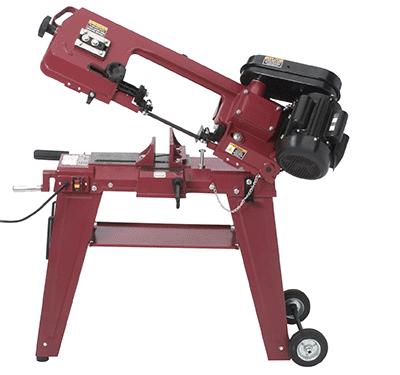 CRL's new metal cutting BNDSW1 Band Saw is ideal for cutting handrails, cap rails, base shoes, and cladding on the job site. Featuring a powerful 1 HP motor and three cutting speeds, the Band Saw quickly and accurately cuts metal pieces to desired length. A two-position rocker switch with lock-off increases safety. The Band Saw comes with a blade and heavy-duty stand with wheels for easy transport.